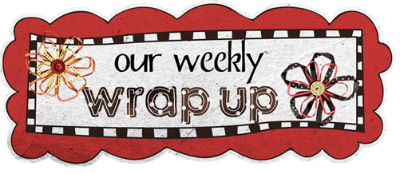 Ahh ... the Weekly Wrap Up, which at this point is more a monthly wrap up because I have been negligent! School has been kind of on the back burner lately. We're getting our work done, but there have been so many extra things going on that life hasn't felt like it's revolved around school the last few weeks. I have to say (or shout!) THIS HAS BEEN NICE!
We're back in the usual swing of things now I think, and on the final rush to get it all done to end by the end of May. We'll see if that actually happens or not, but as of now, we're on schedule. We've finished week 25 (WOOT, that means ten to go!) and lesson 125 in the numbered classes (WOOT, that means 35-ish to go! They average about 160 lessons.) We don't stop math for the summer, but English, reading, science, history get a nice break.
So ... this week? We're still in Rome. We are enjoying Rome. We learned all about Hannibal and about how Rome got so big and powerful. (And I would not be a good mom of multiple children if I didn't point out that Rome's strength lied in WORKING TOGETHER and not FIGHTING AMONGST THEMSELVES.)
We are talking about Galen in science and I think we're all enjoying learning about the beginning of medicine.
This is all relating to the oldest as she is reading
The Mark of the Lion series by Francine Rivers
. (These are my favorite fiction books E.V.E.R. - because there is super extra emphasis if I put a period behind every letter!) She is learning about the Roman culture and reading about it at the same time, and the second book follows a doctor so it's extra exposure for her. Don't tell her, okay?
Let's see ... for extra this week, and to enjoy St. Patrick's Day, we wrote a few limericks.
This one was a collaboration:
In our backyard we have a tree
Around it flies a big bee
One day I got stung
That bee, it got flung
And then I came in to pee.
This one was from the middle one:
I had a pet lizard named Scurry
I caught him one day in a hurry
I fed him bugs
He didn't like hugs
When he died, my eyes were quite blurry
And this one was from the oldest: (she was not having a happy day that day, can you tell?)
I'll always be behind the fence
It's true my life seems so dense
I used to be free
Happy as could be
But now I'm trapped and intense
(We don't lock her in, if you were wondering! She was referring to the neighbor's dog.)
And so that's it for our week! I'll be linking up with
Weird Unsocialized Homeschoolers
today. Hop on over to see some more weekly wrap-ups!