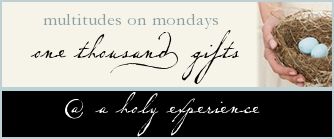 211. For lazy Sunday afternoons.
212. For a sweet little boy who zips out of bed long after he has been sent to bed, just in case he forgot to kiss his mama goodnight.
213. For lunch with old friends and for being able to catch up, just as if years had not passed since we'd last been able to visit with each other.
214. For exciting things going on in said friends' lives.
215. For the little one's excitement about playing t-ball this year, and for his first game Tuesday night. He can't wait ... and neither can I!
216. For completed classes -- the oldest one's English, the middle one's reading and math! WOOHOO!
217. For surviving another year of co-op, and knowing that I will look back and say it was a good year. It really was. Always after spring break, I'm ready to be DONE with co-op, because I'm usually ready to be DONE with school in general by then. We do still have a few more weeks of school, but we're checking things off our list right and left.
218. For my kids' friends. :)
219. For sitting in Sunday school this morning, and *hearing* a verse for the first time. It's a verse I've come across many times, but this time ... well -- I made this face: :-O when I heard it because it was a perfect answer to a question that I hadn't even fully formed yet. Need met before the need was even realized. I love it when that happens!
220. For my mom's good report from her doctor visits on Sunday. :) (And for my sweet praying friends who I know prayed for us!)
I will be linking up with A Holy Experience today. Feel free to hop over and read the gratitude journals of tons more people!