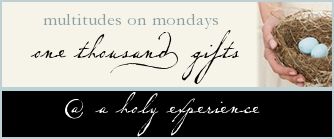 Woot! I think I'm back~!! Now on to the grateful list ...
231. For the winding down. All we have left is one week of t-ball and one week of preschool for our outside activities.
232. For something that I complained about that turned into a humongous blessing. More on that to follow ... probably in an overly wordy Wordless Wednesday post.
233. For yet another reminder that when I sit and focus on me me me, I miss out on so much! And yes, I am very thankful for this, because eventually I'm going to be reminded of this enough times that it will sink in.
234. For a very sweet lady who may have only had a short season in the life of my girls, but whose impact will stay with them through the years, I know.
235. For a fun, fabulous, close to the AWANA program for the year, and forever for the oldest. They all worked incredibly hard this year and I am so proud of them. (Again ... pics to follow ... maybe another overly wordy Wordless Wednesday ... which I think I'll just call that from now on.)
236. For being able to watch the oldest work really hard for something that she wants, and for her recognizing that it will take a lot of work and watching her being willing to put in that work. And for the encouragement of others, when her own mother would have looked at what she wants to do and said it was too hard and she should try again in a few years.
237. For seeing the absolute delight that the middle on has in performing. That child loves to be on stage and spotlights? Awesome.
238. For remembering an AWANA musical when the middle one was 4 or 5 ... the one where she performed her ENTIRE dance recital. All of the other kids were standing and singing, just like they were supposed to be doing, and the middle one was dancing with abandon. I am pretty sure at the time I tried to stop her, to make her sit down and do what she was supposed to be doing, which of course did not work. Today I'm going to find that video and laugh.
239. For my baby, who fell asleep in my arms last night. I know at 5 1/2, there aren't too many more nights for that, and I absolutely cherish it every time it happens.
240. (sorry, have to yell this one ...) SCHOOL IS DONE EXCEPT FOR THE FINAL TWO WEEKS OF HEART OF DAKOTA CURRICULUM, which I might combine into one week and be D.O.N.E. (Can I get a big WOOHOO?!?)
I will be linking up with A Holy Experience today. Feel free to hop on over and read some other Gratitude Journals! Oh - and that background song on her site? That is #236 on my list. :)