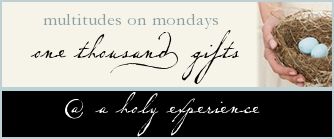 I'll be honest. I'm not feeling a whole lot of gratitude right now. I'm feeling a lot more like wallowing. Maybe that's the very time I need to make this list the most, right? And there ARE things for which I am very grateful.
241. For faith - the substance of things hoped for, the evidence of things unseen. I am filled with a lot of things unseen right now, and a lot of "BUT WHY" and yet, through all of that, there is still faith, somehow, whether I ever see it or not ...
242. For a pastor that I love dearly ... and his ability to say "I don't know why things happen like they do, and it's okay to wonder and to ask."
243. For friends willing to drive five hours to attend the funeral of someone they had never met simply because they love me.
244. For friends who meet us at home with exactly what we need exactly when we need it.
245. For reconnection with old friends ... and promises to keep in touch better.
246. For fried squash, which has been the main staple of my diet over the last week. And for fresh squash, which I bought yesterday.
247. For a fabulous first year of t-ball for the little one, complete with fabulous coaches who taught a lot about baseball, and a lot about sportsmanship.
248. For the completion of all of our school year activities. Except school. Sigh. We'll get that finished this week. Probably.
249. For an "extended" church family who welcomed us in and took care of us, making us feel very loved in the process.
250. For memories, which honestly are just making me cry right now, but there have been a few giggles through the tears, which is nice. :}
I will be linking up with A Holy Experience today. You can feel free to hop over and read other gratitude journals, or start your own. (And if you do start your own, be sure to leave a comment and I'll happily visit your blog.)