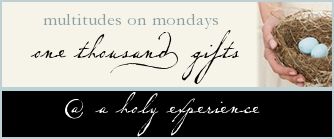 301. For rain, and lots of it ... and the ability to pray for rain for our neighbors to the north and west who so desperately need it.
302. For a successful second week of school. (Yep, I forgot to write up a weekly wrap-up post. I actually took pics and everything. I'll try to remember to combine weeks two and three and do that this week!)
303. For a "still needs bedding but otherwise complete" little boys room. And for the bunk beds that the little one and middle one think are ultra-cool and the easy bedtimes we've had since they have been installed. I am fully expecting the "new" to wear off pretty quickly, but in the meantime, I'm enjoying it!
304. For the world's easiest dog. She likes to be inside, in sight of her mat at all times. She does not want to be anywhere in the house where she can't see her mat. Sometimes I wonder about her a little, but for the most part, I'm just thankful that she is so easy.
305. For a nice, unexpected, visit with a friend yesterday morning. It was so nice to catch up with her!
306. For all three of my kids having birthday parties to attend this weekend. So great to share the birthday party love! (And so nice to not have one or two upset because SHE/HE got to go to a party and *I* didn't!)
307. For a fabulous first day as the mom of a teenager. :) Wow. How is that even possible? More on that later this week.
308. For the high temp of 74 degrees on Saturday. I know it will be back up to sauna level later this week, but it sure was nice to have a reminder that fall is indeed on the way. It probably won't get here until late November, but it IS coming!
309. For successfully taking control over one area of the finances and spending. Let's hope for that motivation to continue! It was just a baby step, but baby steps count, right?
310. For what feels like some renewed motivation in a couple of other areas, and that the Lord is faithful to provide motivation when we need it and ask for it. :) More on that later. Maybe. ;)
I will probably, if I remember, be linking up with www.aholyexperience.com today. Hop on over and read some other gratitude journals, and consider starting your own! It really is a blessing!