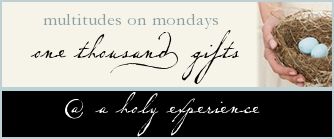 Woot! Two weeks in a row!!
331. For the oldest finishing her Texas History course! We are rejoicing much for this class to be done. She's getting much more out of the Texas history she is doing at our homeschool co-op, and all we were doing at home was basically doing just enough to check the box to say that we did it. It took up a lot of time, so we are very glad to have it done!
332. I've probably mentioned this before several times, but I am thankful for white chocolate raspberry creamer. I have been in coffee bliss. When the day starts with bliss, well ... everyone is just plain happy about that. When the day starts with bliss AND a clean sink ... well ... doesn't get much better than that!
333. For watching my oldest get involved in a service project. I'll post more about this later, because really it deserves a whole post to itself. I am just thankful to watch her really think about some needs and find a way to help fill those needs.
334. For a repair that could have either been a minor fix or financial destruction. You know how that goes? It might be something that needs to be cleaned, or it might be the whole darn system needs to be replaced. Thankfully our repair was of the minor sort, and if it should ever get cold here (ahem ... 4:30 pm on 11/14, and it's 81 degrees right now) we're all set.
335. For tweaking The Pioneer Woman's chili recipe to just where I want it, and on our cold day last week (giggle ... it's all relative. It was in the 60's okay? When you live here, that IS cold!) I made a double batch, so there is perfect chili in the freezer for another day. It's all in the chili powder/cumin ratio. Get that right and it's chili bliss. (So ... start off the day with vanilla coffee with white chocolate raspberry creamer, end it with chili ... the only appropriate word here is bliss.)
336. For really good dental insurance, as we start the braces process with the middle one tomorrow. And for the oldest one not needing them.
337. For how exciting it is to watch the middle one doing her math. She really *gets* what she is doing now and is doing her math well and quickly. And especially I am thankful that she is realizing that she is really doing well and is excited about it herself. (And while I'm praising her, I'm sitting here with a poem she wrote that she is wanting me to type for her. She did an excellent job! Her handwriting is neat, spelling is good, and you can tell she put some effort into it. Go middle one!)
338. For snaggle toothed smiles from a six year old who runs up to give me hugs when he sees me at church.
339. For getting plans together for high school and figuring out a plan there. It's overwhelming, a little, but both the future high school student and I are excited about it.
340. For plans for a relatively easy week this week, then time off next week for Thanksgiving! And for having much for which to be thankful.
I will be linking up with A Holy Experience today. Hop on over and read some other gratitude journals.